Hello and welcome to Word of the Week!
If you're new here, Word of the Week is a nice and simple weekly linky, with everyone welcome to pop by and share. You reflect back on the past week and sum it up in one word. Then share your word with us in a blog post, with as little or as much explanation as you like. It's a fun and friendly linky, so please do be lovely and visit as many of the other blogs as you can and share with them your thoughts on their words and weeks. I do comment on every entry to the linky, and if you add the Word of the Week badge to your post to help spread the 'word', I also tweet them out.
My word of the week this week is:
It's taken me a while to settle on my word for this week as it hasn't been a typical week, so 'different' sprang to mind, but it didn't quite encapsulate it for me, until 'grateful' popped into my head, and yes, that works better.
Last Friday, just a couple of hours in to working, I had a call from Little Man's nursery telling me he was not himself and running a temperature, so of course I went off to get him. All work was then out of the window, but you know instead of stressing (which I might do sometimes!) I just felt grateful that I was able to do that and bring him home for an afternoon of cuddles. I was then grateful that my mum could pop round and watch him whilst I nipped out to collect Boo from school.
Over the weekend I was grateful that it didn't develop into the sickness that I know is going around and his temperature was fine again by Saturday morning. He was not quite himself and off his food all the way until Tuesday morning, so I kept him off nursery on Tuesday, too. This meant a lost day of studying, but he was fabulous and watched a movie and happily played allowing me to get it done. I was grateful! We then popped to the school book fair when we collected Boo and I might have bought a few more books than I'd planned. I'm grateful that the Husband understands I have no self-control where books are concerned, as he just sighed when he came home and saw the pile!
As Little Man was brighter then, on Wednesday we decided to have a day out, going to the cinema to see Lego Batman and then to McDonald's for lunch – they have Batman Happy Meals! I loved having this quality time with him, I do appreciate it, and I am trying to make the most of it before he starts school in a few months time.
Wednesday also saw us going along to Boo's parents evening. She's doing well, she's kind, friendly and helpful, I can ask no more of her. Can I simply be grateful that she's my daughter?
And all week I've been looking forward to today as the Husband and I are off for a couple of nights away, with my brother and his wife, to Cardiff. We are excited and so grateful that my mum will be collecting the kids from school and nursery today and then moving in here for the weekend. The kids can't wait and need I say I'm grateful that my boy's now well again so we can go?!
What about you? What one word sums up your week best?
Please grab the badge, link up and share.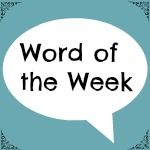 Linky opens at 6.30am Friday, to midnight on Sunday.