Hello and welcome to Word of the Week!
If you're new here, Word of the Week is a nice and simple weekly linky, with everyone welcome to pop by and share. You reflect back on the past week and sum it up in one word. Then share your word with us in a blog post, with as little or as much explanation as you like. It's a fun and friendly linky, so please do be lovely and visit as many of the other blogs as you can and share with them your thoughts on their words and weeks. I do comment on every entry to the linky, and if you add the Word of the Week badge to your post to help spread the 'word', I also tweet them out.
My word of the week this week is:
This week has been dominated by Boo being poorly.
She was ill when she came home last Tuesday night and she's been poorly since then. We went to the doctors on Wednesday afternoon and he gave her some antibiotics that then led to her being sick early Thursday morning all through until lunchtime. That and whatever virus it was that she's been fighting off have meant she's not eaten much, slept much or moved much (so unlike my eldest) over the past week and her temperature has remained high throughout. We went to the doctors again on Tuesday where he noticed a high heartbeat so she had an ECG there and we then took her to the hospital Wednesday for blood tests. We should get those results soon, and in the meantime, I am keeping a close eye on her to make sure she's eating and resting plenty. Her temperature has at last come down so she was back to school yesterday, so very happy to see her friends and teacher.
On the up side, being at home so much (pretty much housebound, in fact!) with a girl who just wants to lie down and watch films or nap means I have got a fair bit of studying done. I was so pleased I managed to submit my assignment early last week, just before Boo was off, as it's taken the pressure off and I have enjoyed getting on with the next block. I have also made my module selections and registered for them, so I'm all set for my final year now.
What about you? What one word sums up your week best?
Please grab the badge, link up and share.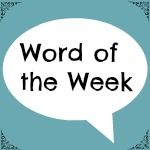 Linky opens at 6.30am Friday, to midnight on Sunday.