Hello and welcome to Word of the Week! Thank you so much for all of your birthday wishes and lovely messages. All much appreciated, and yes, we both had a great time away, thank you.
If you're new here, Word of the Week is a nice and simple weekly linky, with everyone welcome to pop by and share. You reflect back on the past week and sum it up in one word. Then share your word with us in a blog post, with as little or as much explanation as you like. It's a fun and friendly linky, so please do be lovely and visit as many of the other blogs as you can and share with them your thoughts on their words and weeks. I do comment on every entry to the linky, and if you add the Word of the Week badge to your post to help spread the 'word', I also tweet them out.
My word of the week this week is:
In a week that included a weekend away shopping and my birthday, the chances were that paper would feature highly.
Having had both the Husband's birthday and mine, there have been a lot of birthday cards and wrapping paper galore around the house. Our recycling bin is full to the brim! In addition to this, I have received and bought a fair bit of paper…
If you follow me on Instagram, you'll know that whilst we were away I found a Paperchase outlet store (look out for the reveal of all that I bought there on my YouTube channel next Wednesday) and then the following day I visited their Manchester flagship store – there are three floors, I LOVED it! So yes, paper was purchased and the Husband also picked me up a gift there, then a good friend dropped round on my birthday with another Paperchase pressie for me – I was happy.
So with the stationery purchases all taken care of, books were then on my agenda. I had one for my birthday, along with an Amazon gift card that's now all been spent on books, along with popping to Waterstones and The Works whilst away and buying a few more. Yes, my already huge to-read pile has grown once more. I'll share more in Papery Peep at the end of the month, but suffice it to say that I don't need any more for a while!
And finally, I have started a bullet journal. You may have spotted that this week's upload over there in my sidebar features a video of me opening up my starter kit, so I have been getting used to layouts, keys and how to best use it to suit my needs and help me stay organised and productive. I'll share more soon…
What about you? What one word sums up your week best?
Please grab the badge, link up and share.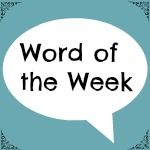 Linky opens at 6.30am Friday, to midnight on Sunday.