Hello and welcome to Word of the Week!
If you're new here, Word of the Week is a nice and simple weekly linky, with everyone welcome to pop by and share. You reflect back on the past week and sum it up in one word. Then share your word with us in a blog post, with as little or as much explanation as you like. It's a fun and friendly linky, so please do be lovely and visit as many of the other blogs as you can and share with them your thoughts on their words and weeks. I do comment on every entry to the linky, and if you add the Word of the Week badge to your post to help spread the 'word', I also tweet them out.
My word of the week this week is:

Over the weekend we took the kids to London and I was proud of the way that they both behaved on the train journeys, tubes and walking around the city. We were there to visit Kidzania, an amazing place for children to spend time. I wasn't too sure how my Little Man would be in there as the children go into each room and activity without parents and he's not always the most confident in these situations. But he did go off happily with his big sister, who took care to look after him all afternoon. It was lovely seeing them both there so happy and fully immersed in everything they were doing, following all instructions and being considerate of the other kids involved.
This week has been Little Man's first pre-school parents evening and it was a real pleasure to hear how well he's getting on there. As regular readers will know, he didn't have a smooth start as he was very reluctant to go each day, but it seems that he is slowly gaining in confidence there now. What made me proud was hearing how friendly and thoughtful he is with the other children and how is very good at listening and then contributing usefully to group activities.
The day after parents evening, Boo came home clutching a gold award certificate. One child from each class in the school receives one of these each week, and this time it was Boo's privilege to do so. I'd obviously be proud of her no matter what she got this for, but the fact that it was for her enthusiasm during topic lessons made it even better. The topic? The Great Fire of London, yes, my girl's loving her history!
Boo then wrote her Santa letter, and that was another proud moment for me…
Love her!
What about you? What one word sums up your week best?
Please grab the badge, link up and share.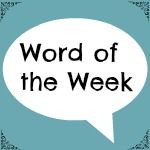 Linky opens at 6.30am Friday, to midnight on Sunday.