Thank you so much for continuing to share and to link up. I do love reading about everyone's weeks!
If you're new here, Word of the Week is a nice and simple weekly linky, with everyone welcome to pop by and share. You reflect back on the past week and sum it up in one word. Then share your word with us in a blog post, with as little or as much explanation as you like. Come join in! All that I ask is that if you link up, you link back to me, and visit as many of the other blogs as you can and comment on their words.
My word of the week this week is:
It's been a great week for seeing family. We're lucky enough to live near to my mum and my in-laws, so we always see them weekly, which isn't something that I take for granted, but really value it as it's lovely for the children. My sister-in-law also pops in to see us each week, and as it's currently school holidays, the kids are having the added excitement of their big, oh-so-patient, cousins coming along with her. In addition to this, this last week, we've also seen my brother and his wife and had a visit from my dad, all of whom are dearly loved by the kids (as well as myself, of course!). And as if this wasn't enough of their favourite people in one week, my aunt and my cousin were over from Belfast for a few days, and not only do they adore their great aunt, they'd not met my cousin before, and to say she's been a hit is an understatement – they want her here all of the time now! Mix into all of this a few play dates with friends old and new, and the children have had a very happy week, and I've felt very sociable!
What about you? What one word sums up your week best? Please grab the badge, link up and share.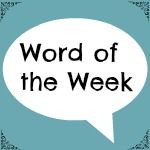 Linky opens at 6.30am Friday, to midnight on Sunday.
PS – Don't miss my '31 Days of Paper' starting over on Instagram today! One for book, snail mail and stationery fans!