Thank you for continuing to link up! I love reading everyone's chosen words, and it's great to see so many familiar linkers, as well as new ones each week. It is a linky, so do please take the time to visit a few other posts if you link up, as that's only fair.
If you're new here, Word of the Week is a nice and simple weekly linky, with everyone welcome to pop by and share. You reflect back on the past week and sum it up in one word. Then share your word with us in a blog post, with as little or as much explanation as you like. Come join in!
My word of the week this week is:
I have been totally on it this last week! I've been doing loads more gardening and the landscaping and tough jobs are all now complete, so I've just fun tasks like planting and creating our wildlife area still to do. You can read where I'm at with it all in my latest Project Garden post. I've moved Boo's bedroom around, got some of her toys up for sale and others have been taken to a charity shop, and then I had room to create a reading nook in her room, which we LOVE! Whilst de-cluttering, I also had a good rummage around in their playroom and got rid of a few more things – I do love to de-clutter, as it makes me feel so organised. I've moved some furniture around downstairs and created a little area by the back door for all of my gardening things. I'll share more on that soon, as redecorating the whole kitchen is next on my to-do list, so I'll blog about that one separately when I get there. I am totally on top of organising #BringBackPaper book swaps, sending out the gorgeous stationery bundles, my own correspondence is all up to date, and I've lots of blog posts written and scheduled. I've bought  and wrapped birthday presents for both this month and next, and started squirrelling bits away for other birthdays later in the year. The house is clean and tidy, the washing basket empty and I've no ironing pile – all done and put away! And, lest you believe that all of this industriousness has been at the expense of time with my family, the kids have been doing various Easter activities and crafts every day, we've christened our new tuff spot, seen family and been to a blogging event together. So yep, feeling pretty good. And I've had time to read a couple of books 😉
What about you? What one word sums up your week best? Grab the badge, link up and share, and do please take the time to read a few others…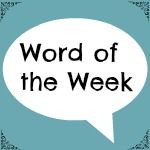 Linky opens at 6.30am Friday, to midnight on Sunday.