Thank you so much for continuing to share and to link up, and thanks for all of the well wishes last week. The kids are both healing well, though Little Man's still very cautious about his foot, liking to have a dressing on it daily (I doubt he needs it now, but he wants it!). He's had 2 more accidents since then, but he's OK!
If you're new here, Word of the Week is a nice and simple weekly linky, with everyone welcome to pop by and share. You reflect back on the past week and sum it up in one word. Then share your word with us in a blog post, with as little or as much explanation as you like. Come join in! All that I ask is that if you link up, you link back to me, and visit as many of the other blogs as you can and comment on their words.
My word of the week this week is:
I've seen dawn every single day for the last week, and on some lucky occasions, it's been even earlier that the kids have risen. Our long weekend was lovely, though I think the latest 'lie in' we had was until 6.10am, and our earliest start was 4.30am, though Boo did at least just crawl into our bed at that time, and not run about, though her wriggling and bored sighs ensured we didn't get back to sleep. Since then, it's been largely Little Man awake at the crack of dawn, though of course, this rouses Boo. Needless to say, I'm feeling a tad tired, especially with the post-break catch up with everything, but at least it's been sunny to brighten my mood and thudding headache!
What about you? What one word sums up your week best? Please grab the badge, link up and share.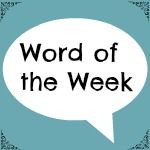 Linky opens at 6.30am Friday, to midnight on Sunday.