Thank you, oh thank you. As the year draws to a close, it also means that Word of the Week is now in it's 51st week – wow! I've so loved hosting this linky and I look forward to reading about everyone's week each Friday. In the interests of completeness, I will be posting a Word of the Week on Boxing Day. I cannot miss doing it on the last Friday of 2014, it would feel incomplete to me! The linky will also be open so you're welcome to pop by and share if you'd like to, too, but it's unlikely I'll get round everyone to comment and tweet, as I will no doubt be very busy building and playing with toys! And yes, in case there was any doubt, Word of the Week will continue into 2015, and it'd be lovely if you'd continue to spread the word so we can grow our little #WotW community!
If you're new here, Word of the Week is a nice and simple weekly linky, with everyone welcome to pop by and share. You reflect back on the past week and sum it up in one word. Then share your word with us in a blog post, with as little or as much explanation as you like. I comment on and tweet out every post, as long as you add my #WotW badge or a link back to here. It's a fun and friendly linky, so please do be lovely and visit as many of the other blogs as you can and share with them your thoughts on their words and weeks.
My word of the week this week is:
Ah yes, the relief! We've had several things going on here over the past week, and the overriding feeling I'm left with is one of relief.
We've all been ill. Fluey type symptoms, aching, coughs, not eating, temperatures, which hasn't been great. But, we're over it now. So I am hoping, hoping, that this means we will be well for Christmas, so am relieved we've got that out of the way (I do hope I'm right on this one!). This led to Boo having her first time off school sick, which unfortunately coincided with a trip to the panto that she had to miss. But, she was well enough to go back in for her nativity play. We were all relieved about that as she'd been so looking forward to it, but I'd say no-one was more relieved than her teacher when she saw her arrive back on Wednesday morning! She was so pleased to see Boo, as she did have the main part in the performance and she really wasn't fancying having to do it herself! And on that subject, I was relieved that all went smoothly, and my girl was a little superstar (look out for more about that in a couple of days time).
Our Harry's been ill, too. Bassets are predisposed to back problems as they age, and he's been suffering with his on and off for a year or so now. But never more so than he has been this week. He's been to the vets twice, and we're trying him on various medications. As he's the worst we've seen him this week, as he left with the Husband to go to his vet's appointment mid-week, I was preparing myself for bad news and the possibility of having to say goodbye to our ever-faithful hound. I could have cried when he came trotting back through the door half an hour later. He has different drugs to try, and the vet reassures us that he's confident that he is in no pain, which was what was really worrying me. 'Relief' seems a little inadequate for my feelings on this one, but relieved I am.
Today is the last day of my girl's first school term. We made it! I'm relieved that it's out of the way, that I know how great school is for her and that we now have a couple of weeks holiday to enjoy being together.
And the obvious relief? We are all set and ready for next week! Everything's bought, wrapped, many gifts have been distributed, and we have plenty of snacks and Christmas DVDs at the ready for the next few days!
Which does lead me on nicely to say that I hope you all have a lovely Christmas and thank you again for popping by and sharing with me each week.
What about you? What one word sums up your week best? Please grab the badge, link up and share.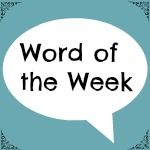 Linky opens at 6.30am Friday, to midnight on Sunday.