Thank you so much for continuing to share and to link up – I love to find out about everyone's weeks in this way, love it!
If you're new here, Word of the Week is a nice and simple weekly linky, with everyone welcome to pop by and share. You reflect back on the past week and sum it up in one word. Then share your word with us in a blog post, with as little or as much explanation as you like. I comment on and tweet out every post, and it's a friendly place, so come join in! All that I ask is that if you link up, you link back to me, and visit as many of the other blogs as you can and comment on their words, please.
My word of the week this week is:
OK, yes, this could be my word every week, I suppose, as I'm always proud of my children. But this week, I've felt it all the more keenly.
I'm getting used to the new school run morning routine, and I'm impressed with how well the kids have adapted to it and get ready quickly each day. There's no arguments or struggles, we just get to it. So far, and I know it's still early days, Boo has been quite content to get to school and every day has happily strolled into her classroom without a backward glance. She comes out cheery each afternoon and she actually tells me what she's been doing, too, though she informs me she's not 'learning' just playing, a real disappointment to her! She's adjusted so well, and today will be the first day that she brings homework home to do, which will be a textless book, library book, tricky word book and some phonics work – I cannot tell you how excited she is by this prospect! Oh, to bottle this enthusiasm for homework and remind her of it when she's 13!
I'm finding myself really enjoying and adjusting to my days spent with Little Man. He's taken to this one to one time so well, and he's suddenly got a social life with 2 classes and a playgroup each week, which he's not had before, as I used Boo's non preschool days for time for the three of us to get out together or play at home. He is blossoming already, which clearly makes me feel a bad mum as he must have been itching for this before. He's now been to 4 classes and 1 playgroup session and the change that I can already see in him when we're out, the way that he's interacting with the children around him and joining in with the activities, is just huge. Last week he stuck right by me, but this week, he's getting involved. I was used to taking Boo to these things, who simply leapt right into everything she did, so this has been a change for me. Of course, I can see that as he is relaxing into these new environments and situations, he's also becoming more mischievous – he's the child trying to work out how to open all the doors or mess with the equipment wherever we go! It makes me so proud of him all the same as I can see him flourishing.
So separately they are making me proud, and then it seems I'd no need to worry about their close bond weakening with Boo at school, as together they are just brilliant. They've come back from school each night this week and gone straight out into the garden. As I ready dinner, I can hear them playing in their make believe world together, or in fits of laughter as they jump and dive on the trampoline. They get on so well, they make me so proud.
I'm also quite proud of myself as I am, I think and hope, striking a better balance between life and blogging. I work in fairly well-defined slots of time now, and outside of that, I'm all about the kids and home. Prior to this, I sort of drifted from one thing to the other, and it was all a little fluid, which often meant I wasn't fully concentrating on one or the other! But since Boo started school, I'm getting a routine in place and it's working. I'm fitting in more with the kids and I'm a week ahead on scheduling posts. Fingers crossed it continues!
What about you? What one word sums up your week best? Please grab the badge, link up and share.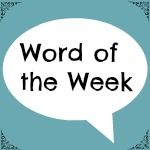 Linky opens at 6.30am Friday, to midnight on Sunday.