Hello and welcome to Word of the Week!
If you're new here, Word of the Week is a nice and simple weekly linky, with everyone welcome to pop by and share. You reflect back on the past week and sum it up in one word. Then share your word with us in a blog post, with as little or as much explanation as you like. It's a fun and friendly linky, so please do be lovely and visit as many of the other blogs as you can and share with them your thoughts on their words and weeks. I do comment on every entry to the linky, and if you add the Word of the Week badge to your post to help spread the 'word', I also tweet them out.
My word of the week this week is:
If you saw my blog post on Monday, Can Embracing Hygge Make You Happier? you'll know what I'm on about! Yes, I have been embracing hygge here and it's keeping me going during a busy week.
We were away over the weekend, we went up to Chester to the zoo and then to Cheshire Oaks, both days were lovely and it was good to get away together, but as often happens then, I returned feeling I had too much to do! I think the main issue was that I knew I had an Open University assignment that I needed to get submitted and it was there hanging over me whilst I had many bloggy and home things to do, too. I finally sent my assignment off on Wednesday afternoon, and the weight was lifted! I have had plenty of work to keep me busy and then there have been the little extras thrown in, such as Boo's poetry recital which was absolutely beautiful but as it was on a Little Man nursery day it meant I lost an hour of work time to attend – I know, I know it sounds like nothing but I have felt it this week!
Anyhoo, all of this rambling brings me back to hygge. Hygge has kept me on an even keel, happy and relaxed when I needed to be this week. I have relished the cosiness and instead of disliking the dark days we've had, I have turned my twinkly lights and lamps on and lit my candles. I am also reading another book about Danish life, which I'll share more about next week, so that has further immersed me in hygge as well as the fact that simply curling up with a good book is hygge-ish! So I am thanking hygge this week, possibly the first Danish word I've featured on Word of the Week?!
What about you? What one word sums up your week best?
Please grab the badge, link up and share.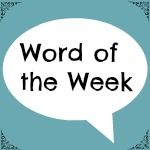 Linky opens at 6.30am Friday, to midnight on Sunday.