Hello and welcome to Word of the Week!
If you're new here, Word of the Week is a nice and simple weekly linky, with everyone welcome to pop by and share. You reflect back on the past week and sum it up in one word. Then share your word with us in a blog post, with as little or as much explanation as you like. It's a fun and friendly linky, so please do be lovely and visit as many of the other blogs as you can and share with them your thoughts on their words and weeks. I do comment on every entry to the linky, and if you add the Word of the Week badge to your post to help spread the 'word', I also tweet them out.
My word of the week this week is:
If you read my blog regularly, I'm sure this one will come as no surprise. It's all about my Open University degree studies.
As I mentioned last week, I changed my mind about my next module selections, so I've been making changes there and that's all now in hand, ready for me to study Empire 1492-1975 next year – to me it's interesting, though I know it is not everyone's cup of tea!
With that arranged, this week I've been hitting the revision hard. I am determined to get a good mark in my exam in a fortnight's time, as I've been pleased with my assignment grades all year and will be annoyed with myself if I let all of that hard work go to waste. My assignments and exam both carry an equal 50% weighting and it is not an overall average score and grade that I receive, but simply whichever is lower. So I have a good assignment average now, but if I score poorly in the exam, my overall grade for the year is the lower exam grade. That will annoy me!
Which means that this week I've been living and breathing history. Saturday saw me at Birmingham university all day for an exam and revision workshop, which was really useful, and since then I've been hitting the books. And making big, colourful timelines and mind maps. And watching films and documentaries. And listening to YouTube clips about The Reformation and the emancipation of slavery, amongst other wide and varied topics, whilst cooking dinner. And then when I do try to switch off of an evening, I find I can't get into my book (so frustrating, as you'll know I am a reader!) so I find myself picking up my BBC History magazines for a browse. We've even started a new box set on NOW TV this week as a means to distract and entertain, and guess what? It's The Borgias, very much an historical drama!
I have two more weeks and then I will be free for the summer and free from revision. So I'll take this opportunity to apologise now for any radio silence here, the blog is on the back-burner for a brief time!
What about you? What one word sums up your week best?
Please grab the badge, link up and share.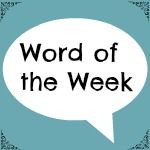 Linky opens at 6.30am Friday, to midnight on Sunday.