Thank you so much for continuing to share and to link up. I love reading everyone's chosen words, and it's great to see so many familiar linkers, as well as new ones each week.
If you're new here, Word of the Week is a nice and simple weekly linky, with everyone welcome to pop by and share. You reflect back on the past week and sum it up in one word. Then share your word with us in a blog post, with as little or as much explanation as you like. Come join in! All that I ask is that if you link up, you link back to me, and visit a handful of other blogs and comment on their words.
My word of the week this week is:
Oh yes, a great word for me! Well, as you'll know from last week, it was my birthday last Friday, which means I arrived home from our holiday to a lovely pile of post and cards. I was then very happy to receive various books and stationery gifts, along with an Amazon voucher, which of course has been spent on more books and stationery! I've been writing in my pretty garden journal this week, making notes and plans on what I need to do out there. As we were away last week, this week has been about catching up and getting on top of things again, so I had to-do lists jotted all over the place. I've also been enjoying a couple of new magazines, which is pretty rare for me, as I don't tend to make time to sit and read them, so that's been good. Oh, and what with the Husband's birthday cards, my cards and his Father's Day card, we've been surrounded by a fair bit of paper, too! And finally, just in case you don't know, I also run the weekly #BringBackPaper feature here on the blog which has occupied me this week as I've been lining up some new guest posts and a new activity for July. Hooray for paper!
What about you? What one word sums up your week best? Please grab the badge, link up and share…..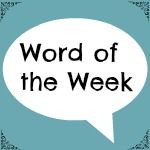 Linky opens at 6.30am Friday, to midnight on Sunday.
PS Did you catch my 20 Top Tips for Bloggers post?