Hello and welcome to Word of the Week!
If you're new here, Word of the Week is a nice and simple weekly linky, with everyone welcome to pop by and share. You reflect back on the past week and sum it up in one word. Then share your word with us in a blog post, with as little or as much explanation as you like. It's a fun and friendly linky, so please do be lovely and visit as many of the other blogs as you can and share with them your thoughts on their words and weeks. I do comment on every entry to the linky, and if you add the Word of the Week badge to your post to help spread the 'word', I also tweet them out.
My word of the week this week is:
It's been a funny old week. You know those weeks where you wake up each morning and can't quite place what day it is for a few moments? Yes, that's been me every day this week. I think I've got too much in my head.
I've loved my studying this week , learning about the Aztecs and sending my first assignment in, and Little Man and I have thoroughly enjoyed our days together, managing to have a couple of play dates. The week's been quite average in that respect, yet my brain's been whirring more than normal and I need it to slow down! Which is where my Word of the Week comes in as it's been one of those weeks where thoughts about the kids have kind of consumed me, as well as having a fair bit to do on the blog so that we can relax next week.
With my Little Man I am so aware that our one to one time is dwindling. I keep looking at him and wondering how he got so big. I'm trying to balance things that I need to do each day with just dropping everything and soaking our time up together. On one of our play dates this week his companion was a little girl who'll turn 2 in a few days time and it was so lovely to see how protective and sweet he was with her, a side to him I've not seen before as we're usually with older children. Our other play date was with a friend that he's made at nursery and I'd not seen them together before and I loved how well they got on, hearing their giggles and how confident they were with one another. He just seems to be growing so much all of a sudden and I'm starting to glimpse the school boy that he will soon be.
With Boo, I have been worrying. She so rarely gives me any causes to worry, so I think this is probably why I've been so aware of it this week. She's now 7 and at that stage where friendships can be tricky and she's been dealing with a few things there. Nothing major, and often something that is simply better the next day, but it's so hard navigating the minds of 6 and 7 year olds and keeping up with their fickle friendships! She's also spent longer doing her homework than ever before – I know this sounds a weird thing to say, but Boo has always come home on a Friday night, sat down, completed her homework independently within ten minutes and then wandered off and done her own thing. This week and last, Maths was a little trickier and she was floundering, which meant I started worrying that she was struggling and trying to figure out whether she should be moved to a different group as I really want her to enjoy this subject – it's kind of important and one she'll be doing daily for about another ten years. So with these thoughts swirling, we went along to a well-timed parents evening on Wednesday. It was so reassuring and productive, and it turns out that she is actually very good at Maths, they're just pushing her harder than she has been before. Clearly a good thing for her and a period of adjustment as she's not had to try too hard before now. At least I can stop over-thinking it all now!
The kids break up for half term today and I cannot wait. We are ready for it, they've been a little more tired in the mornings lately so I am really looking forward to a week of catching up with friends and lots of lazy cuddles.
What about you? What one word sums up your week best?
Please grab the badge, link up and share.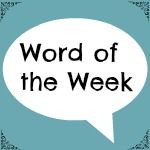 Linky opens at 6.30am Friday, to midnight on Sunday.