Thank you #WotW linkers! Great to have you joining us. If you're new here, Word of the Week is a nice and simple weekly linky, with everyone welcome to pop by and share. You reflect back on the past week and sum it up in one word. Then share your word with us in a blog post, with as little or as much explanation as you like. I comment on and tweet out every post, as long as you add my #WotW badge or a link back to here. It's a fun and friendly linky, so please do be lovely and visit as many of the other blogs as you can and share with them your thoughts on their words and weeks.
My word of the week this week is:
Oh yes, it's felt busy, active, and full! It's been one of those where I have had to concentrate to be sure I know what day it is – you know the sort, don't you?
It's been a week filled with plenty of activity. At the weekend, we squeezed in shopping, Boo went to a party, gardening, seeing family and the Husband went off to play golf. Since then, I've had parcels arriving daily, due to the Christmas shopping I've been doing and various blogging assignments, so lots to sort and enjoy. We've also had workmen here giving us quotes for various bits and pieces we're looking to do around the house, and it's felt like there's been one after another, and I've been juggling the visits with the dog barking at them the whole time and Little Man telling them to 'go away'! I've been out and about with the kids, helping out at Boo's school and visiting a lovely friend and her newborn son – I feel like I haven't actually stopped all week! And Boo and I had a girls night out last night. It's so very, very rare that she's up after 7pm, especially on a school night, but we were out until after that time, at a blogging event – it's stationery-based, I could not resist! We had a great time, Boo was very lively and excitable, so I'll post all about that next week. Oh, and my least favourite 'lively' element of the week? Little Man has been lively when he should have been sleeping! Most nights this week have been bad ones, so I've been getting through the lively week, feeling a tad less lively than I usually do! To top it off, Boo's been constantly singing and practising for her Christmas play, where she has a main part so we've lines to learn. I think I know every song now, and they've certainly offered us a lively soundtrack to our week! All together now, 'My life is getting very busy….' Oh yes, so apt!
What about you? What one word sums up your week best? Please grab the badge, link up and share. If the linky's messing about, select the 'generic' image and it should allow you to enter then. Have tried wrangling with it and improving it, but it's just not playing ball today!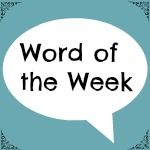 Linky opens at 6.30am Friday, to midnight on Sunday.