Happy New Year! Hope everyone has had a nice Christmas and New Year? It's flown by here! Thanks for dropping by, as I know many people are still in holiday mode, and I do also want to say a special thank you to those of you that linked up last week. As it was Boxing Day I hadn't expected more than one or two of you to join me, but there were a fair few, thank you.
So it begins then, the very first Word of the Week of 2015. It feels momentous! I can't believe it's been a year since I kicked this linky off, and I still love the idea as much now as I did then. Probably more, actually, as I've seen a little #WotW community grow and I know how much I enjoy reflecting upon my week in an attempt to sum it up, and reading about everyone else's.
If you're new here, Word of the Week is a nice and simple weekly linky, with everyone welcome to pop by and share. You reflect back on the past week and sum it up in one word. Then share your word with us in a blog post, with as little or as much explanation as you like. It's a fun and friendly linky, so please do be lovely and visit as many of the other blogs as you can and share with them your thoughts on their words and weeks. I do comment on every entry to the linky, and if you add the Word of the Week badge to your post to help spread the 'word', I also tweet them out.
My word of the week this week is:
They are taking over! Anticipating an influx, I did have a clear out a couple of weeks before Christmas, and got rid of three bin bags full. I am so glad I did!
The new toy piles lived in the living room for a couple of days after Christmas, as the kids made their happy way through them, rediscovering the things that they'd opened in haste, and early favourites getting repeatedly played with, too. I've played and played myself and I lost more time than I'd like to recall assembling and stickering a Pinypon hotel! Boo has had a serious amount of Teenage Mutant Ninja Turtles stuff, so she is very happy. We also have lots of Duplo and Lego (some is TMNT, too, of course), arts and crafts toys, games, soft toys, a fair few Frozen goodies and plenty more besides. Little Man now has his own scooter to match his big sister, so they've been scooting, really fast, up and down the hallway and kitchen together, which has led to plenty of giggles and near misses! By Monday, I'd sort of found homes for everything, but it still felt a bit cluttered. I have continued to secretly rid us of old toys, not easy with the pair of them around all the time! I've yet to come up with a storage spot and solution for all of the Lego, as they have separate sets which are easier to keep that way than empty into one big box, but that means a huge pile of boxes. What do you do with all of yours? Oh, and the kids had a bit of money, too, so Boo has spent time choosing even more toys to spend her cash on, so we do now have an April and a Leatherhead – those of you in the know will totally understand why those were necessary purchases!?! So yep, the kids are very happy, and really, there's probably not a better word for their week!
What about you? What one word sums up your week best? Please grab the badge, link up and share.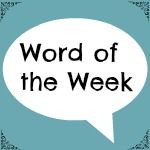 Linky opens at 6.30am Friday, to midnight on Sunday.