Hello and welcome to Word of the Week!
If you're new here, Word of the Week is a nice and simple weekly linky, with everyone welcome to pop by and share. You reflect back on the past week and sum it up in one word. Then share your word with us in a blog post, with as little or as much explanation as you like. It's a fun and friendly linky, so please do be lovely and visit as many of the other blogs as you can and share with them your thoughts on their words and weeks. I do comment on every entry to the linky, and if you add the Word of the Week badge to your post to help spread the 'word', I also tweet them out.
My word of the week this week is:
We've had one of those weeks where we've tried new things and done a few things differently, which I always enjoy.
At the weekend, Little Man went to a birthday party and the big difference is that the husband went along with him – I have done every single birthday party since Boo started getting invitations a few years ago, so this was a change! I was taking Boo swimming as I always do on a Saturday morning, so Little Man went along to his party with daddy. We then tried something different for lunch – it was soooo good and will be on the blog soon! Then on the evening, as Little Man has been having a few problems sleeping, we changed his duvet and pillow to the opposite end of the bed, hoping that a little difference might make him settle better – he liked it, so far so good!
We then tried something completely different on Sunday as we were invited to visit Jump Nation. I wasn't too sure what to expect, but I have to say we had a brilliant time there and the kids are already asking to go back. I was surprised by how much I liked it, let alone the rest of the family, as I tend to prefer relatively inactive hobbies! I was not surprised to see the Husband bouncing and flying all over the place, often onto his bum as he attempted ridiculous stunts, it's totally his sort of thing! All of us thoroughly enjoyed it and it's one of those activities I can see us doing again on a rainy day to burn off some energy and it's something that we can all do together. There was plenty of giggling going on, definitely one to try if you've not had a go yourself.
Mid-week, Little Man and I took my mum out for the day as it was her birthday, so that was a very lovely 'different' day for us all. This week has then started to feel a little different as festivities are creeping in. Yesterday our elf returned to us for the Christmas countdown, bringing Advent calendars with him, Boo's started to make Christmas decorations and hang them all over the place and there's talk of getting the tree up this weekend. It's been a fun, different week.
What about you? What one word sums up your week best?
Please grab the badge, link up and share.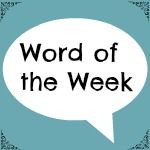 Linky opens at 6.30am Friday, to midnight on Sunday.