Welcome to #WotW and a huge thank you for last week's wonderful posts! We had 70 people link up last week, which was brilliant to see and wonderful to read so many words – you kept me very busy! If you're new to Word of the Week, you simply sum up your past week in one word, and write a post about it. It can be as long or short, as detailed or otherwise as you'd like, just share that word with us.
So, onto my word, and it is…
Oh yes, I've been getting things done! We've been outside making more progress with Project Garden – the shed is now down and burned, and I've booked a tree surgeon in to come and chop the laburnum down in a couple of weeks, too, so I feel things are progressing nicely there – more on that in my next gardening update in a few days time. We managed to find the Husband a new car at the weekend, so that's a big item off the to-do list. I've also been working on my blog with a lot of behind the scenes stuff, scheduling plenty of posts in, getting more interest in The Blog Lowdown, and developing a few new ideas. We're also off on holiday tomorrow, so I've been making my lists, preparing, and packing ready for that. All in all, I'm feeling pleased to have so much done 🙂
What about you? What one word sums up your week best? Grab the badge, link up and share, and please do take a little time to read some other posts, as linkys only work if you do that…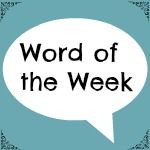 Linky opens at 6.30am Friday, to midnight on Sunday.