Hello and welcome to Word of the Week!
If you're new here, Word of the Week is a nice and simple weekly linky, with everyone welcome to pop by and share. You reflect back on the past week and sum it up in one word. Then share your word with us in a blog post, with as little or as much explanation as you like. It's a fun and friendly linky, so please do be lovely and visit as many of the other blogs as you can and share with them your thoughts on their words and weeks. I do comment on every entry to the linky, and if you add the Word of the Week badge to your post to help spread the 'word', I also tweet them out.
My word of the week this week is:
We were away over the long weekend, spending a few days down in Hampshire exploring new places and activities. We loved every minute of our break and I'll share more about it here next week. The highlight for the kids was their first Go Ape adventure, a new experience for them and one that they absolutely adored!
Whilst there we did a little shopping and bought some new clothes and treats and the Husband and I also got round to ordering a new mattress for our bed in the bank holiday sales, something we've been meaning to do for ages. It arrives in a couple of weeks time and we're hoping it's nice and comfortable! On our return, the kids were delighted to find they had received some new Pinypon toys to review, and they're proving to be a hit.
On Monday we then popped to our local shops as the kids had Easter money burning holes in their pockets that just had to be spent! I might have popped to the Paperchase and Thorntons sales, too, and Boo and I shared our new stationery and books over on YouTube this week.
Mid-week we visited my aunt as she had had a new baby rabbit last week that the children were very keen to meet. Oh, he's so cute! Little Benjamin bunny is just 8 weeks old and basically a ball of adorable fluff. Boo didn't want to leave him so we'll definitely be going back to see him soon. On the same day we had another exciting delivery as the children received their My Holibob Bears which are so sweet and are getting lots of cuddles.
Then the big 'new' this week is the thought of Little Man starting school. Yes, I know it's not a new concept to me as I have seen this one coming, but it was this week that we found out that he's got a place at the same school as Boo, so new adventures are firmly on the horizon for him now.
What about you? What one word sums up your week best?
Please grab the badge, link up and share.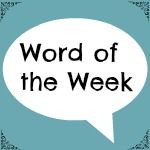 Linky opens at 6.30am Friday, to midnight on Sunday.