Hello and welcome to Word of the Week!
If you're new here, Word of the Week is a nice and simple weekly linky, with everyone welcome to pop by and share. You reflect back on the past week and sum it up in one word. Then share your word with us in a blog post, with as little or as much explanation as you like. It's a fun and friendly linky, so please do be lovely and visit as many of the other blogs as you can and share with them your thoughts on their words and weeks. I do comment on every entry to the linky, and if you add the Word of the Week badge to your post to help spread the 'word', I also tweet them out.
My word of the week this week is:
'The process of shedding the old skin (in reptiles)'
Oh, OK, it's clear I'm not a reptile, but I'm still using this word as I like it!
This week I feel like I am emerging from hibernation and preparing my body for the warmer weather. I am sloughing and shedding my old skin, figuratively, of course. I am getting back into my running, I've dug out some forgotten clothes and shoes for the brighter weather, booked myself a hair appointment for next week and my healthy eating plan kicked in a couple of days ago.
I'm also refreshing a few things here and there around the blog and social media. You may have spotted I've a new avi? I've also given my YouTube channel a spruce up and I've been having fun on Instagram. I'm toying with a new blog theme as I like to change the layout a bit each year, but I've not got quite enough time to play around with it at the moment. Maybe after my exam's out the way I'll try that.
Oh, and speaking of, I got my penultimate OU score back this week and it was the highest yet so I am happy and determined to do well on my final assignment due in soon and then I'll be hitting the books for revision!
What about you? What one word sums up your week best?
Please grab the badge, link up and share.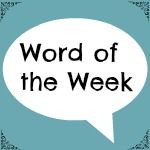 Linky opens at 6.30am Friday, to midnight on Sunday.