Hello and welcome to Word of the Week!
If you're new here, Word of the Week is a nice and simple weekly linky, with everyone welcome to pop by and share. You reflect back on the past week and sum it up in one word. Then share your word with us in a blog post, with as little or as much explanation as you like. It's a fun and friendly linky, so please do be lovely and visit as many of the other blogs as you can and share with them your thoughts on their words and weeks. I do comment on every entry to the linky, and if you add the Word of the Week badge to your post to help spread the 'word', I also tweet them out.
My word of the week this week is:
The sun has arrived! I adore the sunshine and the heat, summer is my favourite season. This week we have spent so much time in the garden and it's been great to be able to throw open the back door and the kids have been in and out as the mood takes them. As soon as Boo's been getting home from school each day, they've been sitting out there with their ice lollies, so happy.
I have also had the summer holidays on my mind as I've been planning in play dates, days out intermingled with lazier days and a few appointments that we need to get in over the break. Oh yes, we have the excitement of the dentists, hairdressers and Little Man's preschool immunisations to look forward to!
Then there's been the countdown all week. Boo and Little Man break up from school and nursery today, and we are all so ready for the summer. I have been writing and scheduling posts like a crazy woman so that I can really slow the pace down over the summer and just enjoy spending time with the kids. In just a few more hours they are mine, all mine, for weeks on end. I can't wait!
What about you? What one word sums up your week best?
Please grab the badge, link up and share.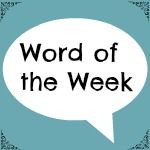 Linky opens at 6.30am Friday, to midnight on Sunday.