Thank you so much for continuing to share and to link up, I do appreciate and enjoy reading every single WotW post.
If you're new here, Word of the Week is a nice and simple weekly linky, with everyone welcome to pop by and share. You reflect back on the past week and sum it up in one word. Then share your word with us in a blog post, with as little or as much explanation as you like. I comment on and tweet out every post, and it's a friendly place, so come join in! All that I ask is that if you link up, you link back to me, and visit as many of the other blogs as you can and comment on their words.
My word of the week this week is:
How can I complain about that?! I have spent a lot of time this past week cuddling with my children. Boo has been under the weather for a few days, and when she's unwell, she asks for lots of cuddles. She's not an overly cuddly child, unlike Little Man, so it's nice to feel needed sometimes! It's meant I've not got much done other than cuddling for two or three days, but then what could be more important? As Boo's been unwell, we've been lazing around at home more than we normally do, watching films and reading stories, and all seem to require the three of us snuggling up and cuddling under a blanket. If you read my #WotW post last week, you'll appreciate why buying Little Man his very own Animal has resulted in heaps of cuddling, as he has barely let him go since he had him at the weekend, clutching him to him, cuddling him and doing his own little impressions of him! And I've also been enjoying those morning cuddles, when the kids clamber into our bed at 6ish, before we all get up just before 7. I'm very aware that with Boo about to start school in a little over a week's time, that these lazy, cuddly mornings are drawing to a close, so I'm savouring every single one of them until then.
What about you? What one word sums up your week best? Please grab the badge, link up and share.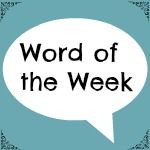 Linky opens at 6.30am Friday, to midnight on Sunday.