It's that time again where I sum up my week in a word, and invite others to do the same. I do enjoy pausing and thinking back over my week, and looking for an overriding theme. And I thank those of you that take the time to do the same and then link up with me here. It's a pleasure to have you all.
If you're new here, Word of the Week is a nice and simple weekly linky, with everyone welcome to pop by and share. You reflect back on the past week and sum it up in one word. Then share your word with us in a blog post, with as little or as much explanation as you like. It's a fun and friendly linky, so please do be lovely and visit as many of the other blogs as you can and share with them your thoughts on their words and weeks. I do comment on every entry to the linky, and if you add the Word of the Week badge to your post to help spread the 'word', I also tweet them out.
My word of the week this week is:
Little Man's latest obsession. Are you familiar with this show? For those of you who are, you're feeling for me right now, aren't you? For those of you who aren't aware of it, it's a CBeebies programme, a 'comedy' sketch show for children, featuring Justin of Something Special and Justin's House fame. Little Man loves it, LOVES it, I tell you. He'll talk to me about it as he's drowsily waking up in the morning, he sings it really loudly from his pushchair on the school run, he talks to people about the characters and the hilarious things that they get up to, and yes, he watches it. Why watch any other shows when you can just watch Gigglebiz on repeat, hey? And he'll get upset if others don't enjoy it, too, so my poor 18 year-old nephew has been subjected to this, Boo has to watch it far more than she would choose to, and me? I just blank it out now! Fortunately, he's also really into his painting at the moment, so I manage to lure him away to paint each day, or we simply leave the house! Good job I adore my son…. 😉
Oh, and to give you a better flavour for it, this is the soundtrack to my week…
http://youtu.be/TGEVANvhZdc
What about you? What one word sums up your week best? Please grab the badge, link up and share.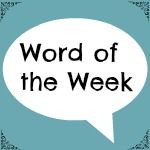 Linky opens at 6.30am Friday, to midnight on Sunday.