Hello and welcome to Word of the Week!
If you're new here, Word of the Week is a nice and simple weekly linky, with everyone welcome to pop by and share. You reflect back on the past week and sum it up in one word. Then share your word with us in a blog post, with as little or as much explanation as you like. It's a fun and friendly linky, so please do be lovely and visit as many of the other blogs as you can and share with them your thoughts on their words and weeks. I do comment on every entry to the linky, and if you add the Word of the Week badge to your post to help spread the 'word', I also tweet them out.
My word of the week this week is:
First up, as I've typed the date out I cannot possibly miss a little shout-out in here for my bestie as she's 40 today – I've no doubt she is being thoroughly and deservedly spoiled, have a good one, Emily!
Right, back to Christmas! What else could it be this week?
The kids broke up last Friday and since then it has been all about revelling in the fun that is Christmas. We've watched Christmas films, read Christmas books, done Christmas crafts, caught up with friends to swap Christmas presents and generally immersed ourselves in the season. We have loved it.
The Husband broke up from work last night until the new year, the gifts are wrapped and ready so we are all set. Tomorrow the Christmas Eve stockings will be full when the kids wake up, so excitement levels are only going to go up a notch as they receive more festive books, pjs and sweets. Then it'll finally be here, the big day, and I am so looking forward to seeing their little faces when they come down in the morning and open their presents. I'm just as excited as they are!
So all that remains for me to do is sign off here for a few days break and wish you all a Very Merry Christmas! Have a good one, all.
What about you? What one word sums up your week best?
Please grab the badge, link up and share.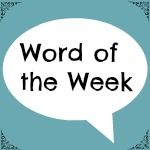 Linky opens at 6.30am Friday, to midnight on Sunday.