Hello and welcome to Word of the Week!
If you're new here, Word of the Week is a nice and simple weekly linky, with everyone welcome to pop by and share. You reflect back on the past week and sum it up in one word. Then share your word with us in a blog post, with as little or as much explanation as you like. It's a fun and friendly linky, so please do be lovely and visit as many of the other blogs as you can and share with them your thoughts on their words and weeks. I do comment on every entry to the linky, and if you add the Word of the Week badge to your post to help spread the 'word', I also tweet them out.
My word of the week this week is:
Ah yes, after the bubble of the summer holidays and a couple of adventures in our first weeks back, reality is now biting.
Little Man has been feeling the reality of his return to nursery and is making his unhappy feelings known. He's been protesting and getting upset about going this week, more so than last, possibly because the novelty has worn off and he's realised that this is how it is now again.
Boo's reality of Year 2 at school is going well, as she's been given more responsibility and is delighted to be a classroom monitor this term. However, she's said one or two things to me recently that have made me a little sad as I've realised that she's growing up and people around her can influence her more now. She's always been so confident and I think innocence and lack of any real self-consciousness have contributed to that, but a few people have said things to her that have had her questioning herself and her behaviour, and it's a real shame. The real world is starting to creep in already.
My reality is in getting my routines back with blogging and yes, university work has now recommenced. The break was lovely, but it's back to the grind again for me!
Intermingled into all of this, though, is my determination to keep hold of the fun, adventures and great moods we've all been in, even as routines and normality return. As I've mentioned in the last couple of Word of the Weeks, I am planning weekend adventures and mini breaks, Little Man and I are having our fun days each week and we've been throwing in spontaneous excitement such as movie nights and impromptu trips out for the kids. Just because reality is back, doesn't mean we can't enjoy it, right?
What about you? What one word sums up your week best?
Please grab the badge, link up and share.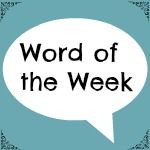 Linky opens at 6.30am Friday, to midnight on Sunday.