Thank you so much for continuing to share and to link up – I love to find out about everyone's weeks in this way, love it!
If you're new here, Word of the Week is a nice and simple weekly linky, with everyone welcome to pop by and share. You reflect back on the past week and sum it up in one word. Then share your word with us in a blog post, with as little or as much explanation as you like. I comment on and tweet out every post, and it's a friendly place, so come join in! All that I ask is that if you link up, you link back to me, and visit as many of the other blogs as you can and comment on their words, please.
My word of the week this week is:
Yes, I've decided that as it begins with a hash tag, it is indeed one word, and if it's not? Well, it's my linky, so I'm doing it anyway!
Now, this week could just have easily been 'Croup', as that has dominated the week here with Little Man catching Boo's, and he's been suffering and struggling with it. It has meant sleep deprivation, leading to general grumpiness (him and me!), lots of activities cancelled, and plenty of snuggle time. But, after last week's not so positive 'Damp', I had to find something cheerier this week, didn't I?!
For anyone that doesn't know, #BringBackPaper is my campaign to get us enjoying more papery goodness, and it's kept me nice and busy this week. I've been arranging the book swaps (plenty of time to still join in with that), catching up on my own snail mail, planning my #30DaysOfPaper prompts ready for my November Instagram challenge (they'll be over on my Instagram feed soon so keep an eye out for those!), getting chit chat ideas ready for the Twitter party next Wednesday evening, lining up a whole new regular papery feature and I've liased with a fabulous lady on bringing a feature about her business along with a giveaway to you all soon. And as if that wasn't enough, I've discovered a new author this week, so have been drawn into a happy bookish papery world and the post I wrote a couple of days ago on Minted has got me planning some papery Christmas gifts from them. So yes, I'm going with paper over croup!
What about you? What one word sums up your week best? Please grab the badge, link up and share.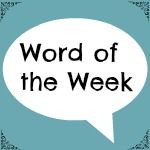 Linky opens at 6.30am Friday, to midnight on Sunday.