Hello and welcome to Word of the Week!
If you're new here, Word of the Week is a nice and simple weekly linky, with everyone welcome to pop by and share. You reflect back on the past week and sum it up in one word. Then share your word with us in a blog post, with as little or as much explanation as you like. It's a fun and friendly linky, so please do be lovely and visit as many of the other blogs as you can and share with them your thoughts on their words and weeks. I do comment on every entry to the linky, and if you add the Word of the Week badge to your post to help spread the 'word', I also tweet them out.
My word of the week this week is:
Firstly, thanks for all of the lovely comments last week – yes, we had a fab weekend away, loved it!
It's been half term here, so we've had a week full of playdates. Every day has seen us catching up with friends, visiting their homes or hosting here, and it's been great. The kids have loved it, and I have enjoyed chatting with friends. In amongst these we've fit in dentists and opticians appointments, and had plenty of time to just play and lounge about at home.
If you follow me on social media you might also have seen that I've found that I have food intolerances to cow's milk and egg whites, so this has also lingered over my week as I've researched new food and recipe options, tried new things with the shopping, and it seems I now carry my own teabags around, producing them at playdates, as I'm opting to drink herbal teas. I will blog more about this whole process soon. It's all fun!
What about you? What one word sums up your week best?
Please grab the badge, link up and share.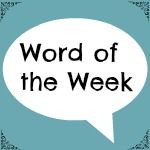 Linky opens at 6.30am Friday, to midnight on Sunday.