Hello and welcome to Word of the Week!
If you're new here, Word of the Week is a nice and simple weekly linky, with everyone welcome to pop by and share. You reflect back on the past week and sum it up in one word. Then share your word with us in a blog post, with as little or as much explanation as you like. It's a fun and friendly linky, so please do be lovely and visit as many of the other blogs as you can and share with them your thoughts on their words and weeks. I do comment on every entry to the linky, and if you add the Word of the Week badge to your post to help spread the 'word', I also tweet them out.
My word of the week this week is:
I am pleased to say that my daughter is at last back to her old self again. As she was quite ill for over a week, it felt like an age before I saw her start to bounce back. She started eating properly again over the weekend, much to my relief, and was back at school her normal energy returning this week. It's so reassuring to see her well again, full of life, smiles and chatter. Thanks to so many of you for your well wishes, and to my lovely family and friends for checking on her, and my best mate for sending her a brilliant cheer up package.
There's also been something of a milestone with Little Man. As you'll know, he's always been reluctant to go to nursery. Well, this week, for the very first time in over a year of him going, he hugged me then ran off with his friend to play without a backward glance. This is huge! He has always, always needed to be handed over to an adult there to hold their hand for reassurance as he said goodbye to me. To just run off with a mate was unheard of and I was so very happy to see it. He's also been talking about new friends, as well as being keen to get there to see his close pals. He did well going when Boo was poorly, as I thought he'd complain knowing she was at home, but he was fine so I really think a corner has at last been turned. I am now starting to feel much happier about him starting school as I am glimpsing how he can settle there now. Such a relief!
And finally, my Open University work has been occupying me. I was relieved to get my last assignment back with the best mark of this module so far, which told me I'm on track for the grade I want and reassured me that I know what I'm doing as I felt most confident in writing this piece, so clearly this does reflect in the mark. I have then been wrangling (there's really no other word for it!) with my next assignment and getting it clear in my head, and deciphering exactly what the question is asking of me has been consuming me! Well, I think, I hope, I am there now, so I just need to get to writing it this coming week.
What about you? What one word sums up your week best?
Please grab the badge, link up and share.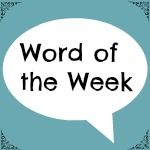 Linky opens at 6.30am Friday, to midnight on Sunday.