Hello and welcome to Word of the Week!
If you're new here, Word of the Week is a nice and simple weekly linky, with everyone welcome to pop by and share. You reflect back on the past week and sum it up in one word. Then share your word with us in a blog post, with as little or as much explanation as you like. It's a fun and friendly linky, so please do be lovely and visit as many of the other blogs as you can and share with them your thoughts on their words and weeks. I do comment on every entry to the linky, and if you add the Word of the Week badge to your post to help spread the 'word', I also tweet them out.
My word of the week this week is:
I went along to Gardeners' World Live last week and absolutely loved it! I went with my mum, the best gardener I know, which made it all the more special. We very rarely have time to ourselves together these days, as the kids are usually around, so to have a whole day out just the two of us was lovely, and for it to be at something that we both really enjoy made it all the more enjoyable. It gave me plenty of ideas, inspiration, enthusiasm and of course actual plants – yes, I couldn't come away without buying a fair few, could I?!
I shared some of my thoughts in a post earlier this week, 5 Tips for Encouraging Wildlife into your Garden and you'll probably have spotted a few pics over on Instagram, too.
So since then I've been gardening, when the weather permits. I've moved a few things around, put my new plants in, then requested more new plants courtesy of my mum's garden (so handy!), so that's seen me out there again planting and pottering. When I'm not out there, I'll often catch myself thinking about it, what I want to move, plant next, buy next and so on. And of course with all of this rain, there's new growth out there daily to explore and enjoy. My addiction to David Austin roses remains strong (and yes, I totally bought another last Friday), and I have so many of them blooming right now it smells wonderful out there and is all so colourful.
So whilst I've been busy with various other things this week – playing with the kids, adoring Game of Thrones, reading lots of books, writing plenty of blog posts, getting to grips with my bullet journal – it's been gardening that has most pervaded my thoughts and where I've been spending a lot of time.
What about you? What one word sums up your week best?
Please grab the badge, link up and share.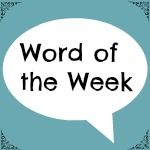 Linky opens at 6.30am Friday, to midnight on Sunday.