It's May already! I've been sharing my weekly word for 4 months now, as have many of you, so thank you for continuing to link up. I love reading everyone's chosen words, and it's great to see so many familiar linkers, as well as new ones each week. It is a linky, so do please take the time to visit a few other posts if you link up.
If you're new here, Word of the Week is a nice and simple weekly linky, with everyone welcome to pop by and share. You reflect back on the past week and sum it up in one word. Then share your word with us in a blog post, with as little or as much explanation as you like. Come join in! My word of the week this week is:

It's been an odd week, and one of those where I really appreciate doing Word of the Week, as it makes me stop and have a good think about it all. My word was initially going to be something along the lines of 'fraught' as it's been frustrating in many ways, with overtired and clingy kids, a teething son, the dishwasher breaking and then arranging the replacement – a palaver that I will not bore you with, hassles with utilities to sort out, lots to do. You know those weeks where everything seems hard? Yep, one of those! But, on reflection, I think 'blogging' sums it all up better, and is a lot more positive!
Now, I accept that this could be a word I'd use every week, as I certainly do a lot of it! This week, though, saw me attend my first blog conference and meet lots of lovely bloggers, as well as take away copious notes and inspiration from it. It's been pretty busy with some great give-aways (did you see my John Lewis voucher give-away? That is going well!), as well as some fabulous guest posts, and my own, of course! I've signed up to be part of International Blog Swap Day, organised by Tots100, and have been chatting to the fabulous Melissa over in Australia about our swap, so more on that soon. Boo won a competition this week (she is SO happy!), bagging herself £50 of Galt arts and crafts goodies, which was actually a tweeted picture, rather than a blog post, but I found out about it via a blog PR email. I've been writing a lot of posts, as well as running 3 linkys this week – very busy! My usual #WotW, The Theme Game, and the first ever monthly Papery Peep, too. I also sent my first monthly blog newsletter, with a round up of happenings and highlights here at The Reading Residence. So, yes, I'm going with the decidedly better 'blogging 'over 'fraught', though I admit that blogging may have added to my 'fraught' week, too!
What about you? What one word sums up your week best? Grab the badge, link up and share, and do please take the time to read a few others…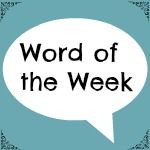 Linky opens at 6.30am Friday, to midnight on Sunday.