Hello and welcome to Word of the Week!
If you're new here, Word of the Week is a nice and simple weekly linky, with everyone welcome to pop by and share. You reflect back on the past week and sum it up in one word. Then share your word with us in a blog post, with as little or as much explanation as you like. It's a fun and friendly linky, so please do be lovely and visit as many of the other blogs as you can and share with them your thoughts on their words and weeks. I do comment on every entry to the linky, and if you add the Word of the Week badge to your post to help spread the 'word', I also tweet them out.
My word of the week this week is:
It could so easily have been 'Easter' with bonnet parades, crafts and chocolate eggs everywhere, or 'Busy', as Boo's had a busy social life, we've caught up with friends, I've had Little Man's parents evening, Boo's had projects and homework due in along with Sport Relief sponsorship money, preparation for her speech and drama class, her bonnet – it's felt like there's been a lot going on! But no, I'm going to indulge in nostalgia…
If you saw my post 'Gin in a plastic cup and a sticky floor' earlier this week, you'll have a good idea why. Saturday night saw my best mate, her sister and I reliving our youth as we went to see The Wonder Stuff. As you'll no doubt glean from the post, they meant a lot to us as teens! I felt like I was 17 again, and since then, I've been playing Hup in the car with the kids absolutely loving it, and when my friend Emma (BrummymMummyof2) came over this week, I discovered she'd been a fan too, so we had the Stuffies playing in the background whilst we chatted! It's pervaded my week and made me feel that little bit lighter, that little bit younger. I remember me, and I am still in here…somewhere. Oh, and when I shared my post, The Wonder Stuff retweeted it and Miles Hunt himself (the lead singer for those of you too young to know who I'm going on about!) 'liked' it. My work here is done, guys. I should have put down my proverbial blogging pen right there and then, now that Miles knows who my friends and I are – yep, we're 17 again!
What about you? What one word sums up your week best?
Please grab the badge, link up and share.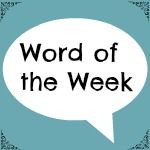 Linky opens at 6.30am Friday, to midnight on Sunday.