Thank you so much for continuing to share and to link up. You'll be pleased to learn that Little Man has actually slept past dawn several times this week, so I'm now getting lie ins until just after 6am, which I can totally handle!
If you're new here, Word of the Week is a nice and simple weekly linky, with everyone welcome to pop by and share. You reflect back on the past week and sum it up in one word. Then share your word with us in a blog post, with as little or as much explanation as you like. Come join in! All that I ask is that if you link up, you link back to me, and visit as many of the other blogs as you can and comment on their words.
My word of the week this week is:
It's been a week where I've achieved lots of things that I needed to get done, all interspersed with play dates, trips out and sunshine. I've got a couple of classes now booked in for Little Man from September, caught up on all of my snail mail, had a toy clear-out and got the kids next size up clothes hanging and ready to use. I've been pottering about in the garden getting jobs out there done, whilst the kids have been enjoying the sunshine. I've arranged a few upcoming blog posts and been working on more freelance work. Then the big project has been buying and changing all of the furniture in Little Man's room, switching some of it with Boo, and arranging for his bed, which will come in a few weeks time – more on that to follow. So it's all been very productive, very warm, and I'm feeling rather pleased with everything that's been achieved.
What about you? What one word sums up your week best? Please grab the badge, link up and share.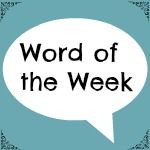 Linky opens at 6.30am Friday, to midnight on Sunday.