It's the last Friday of 2014, so my last word of the year! And yes, I know it's Boxing Day and it may well be that no-one at all reads this, but in the interests of completeness, I have to round off the year! As such, the linky is open if others are as odd as me, though I'm not likely to get round to everyone this week – busy with toys and such-like!
If you're new here, Word of the Week is a nice and simple weekly linky, with everyone welcome to pop by and share. You reflect back on the past week and sum it up in one word. Then share your word with us in a blog post, with as little or as much explanation as you like. It's a fun and friendly linky, so please do be lovely and visit as many of the other blogs as you can and share with them your thoughts on their words and weeks.
My word of the week this week is:
As you'd expect with Christmas, this week's been all about family. Both our little unit of four and the fun days we've shared, and also our extended family. My kids are very fortunate to have all four grandparents, along with two doting aunts and uncles and cousins who are eternally patient with them. We all live within easy driving distance of each other, we all get to see each other over Christmas. Oh, and everyone spoils our children. At times like these, I know how lucky we are, and so I am very thankful and grateful that we have this. I do not take it for granted, I know that it is precious and irreplaceable. I am grateful.
What about you? What one word sums up your week best? Please grab the badge, link up and share.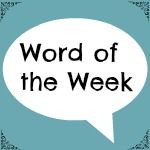 Linky opens at 6.30am Friday, to midnight on Sunday.