Hello and welcome to Word of the Week!
If you're new here, Word of the Week is a nice and simple weekly linky, with everyone welcome to pop by and share. You reflect back on the past week and sum it up in one word. Then share your word with us in a blog post, with as little or as much explanation as you like. It's a fun and friendly linky, so please do be lovely and visit as many of the other blogs as you can and share with them your thoughts on their words and weeks. I do comment on every entry to the linky, and if you add the Word of the Week badge to your post to help spread the 'word', I also tweet them out.
My word of the week this week is:
It's been one of those weeks where my head has been swirling with plans for different things.
Following on from last week's Word of the Week, I'm excited to say that we have now booked our Disney World holiday, which took planning to book and now there's all sorts of fun planning to be getting on with as we count down to next summer.
Connected to this have been budgeting plans. Yes, Disney is going to challenge me to be very clever with our spending and budgets over the next few months, so I have been looking at ways to reduce spending and be more creative with our budgets.
The children break up for half term today so I have been making plans for next week for us, trying to get that balance of catching up with a few friends in amongst lazy, chilled out days. Hopefully I've got it right.
Then looking ahead to June, we've my nephew's birthday, the Husband's and then mine all within a week or so, so there's been lots to plan for there. Then on top of that, the week after is Father's Day so I have sorted cards and gifts for that this week, too.
All of this along with blog plans. I've been planning and scheduling several posts in, working on something a little different that will be on the blog next week and planning for some YouTube videos. I have been in a planning daze!
What about you? What one word sums up your week best?
Please grab the badge, link up and share.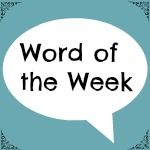 Linky opens at 6.30am Friday, to midnight on Sunday.