Thank you so much for continuing to share and to link up – I love to find out about everyone's weeks in this way, love it!
If you're new here, Word of the Week is a nice and simple weekly linky, with everyone welcome to pop by and share. You reflect back on the past week and sum it up in one word. Then share your word with us in a blog post, with as little or as much explanation as you like. I comment on and tweet out every post, and it's a friendly place, so come join in! All that I ask is that if you link up, you link back to me, and visit as many of the other blogs as you can and comment on their words, please.
My word of the week this week is:
This week, it feels like little has been completed, yet much has been achieved, if that makes sense? It's all been about doing the groundwork and laying the foundations, whichever way I look.
In the short term, it's Boo's birthday next week, so I've been wrapping, getting the cake and planning the celebrations.
I've been at Boo's school again, for a Phonics workshop this time, and she's had her first set of homework. As we sat there with her very first 'tricky word' to learn and having fun with her oral blending sheet and text-less book, I was very much aware that we're at the beginnings of her academic life. Yes, she's been learning since she was born, and yes she's still only small, but getting reading and writing right sets her up for the rest of her life, I feel, so enjoying it and seeing how proud she is of herself and her accomplishments has been lovely.
Little Man is now getting used to his groups, he's clearly becoming more comfortable at them, and I can see his confidence when apart from me growing. Maybe one day I will be able to drop him off at preschool!
In the garden, I've continued pruning and repositioning plants, and have then planted over 300 bulbs out there, so that we'll have some beautiful colours out there come springtime. Definitely a feeling of 'groundwork' there in two senses of the word, and it was quite hard work!
My nephew's had his fresher's week at university. The beginnings of his further education, full of new experiences and friendships. My younger nephew has been immersed in rehearsals for Romeo and Juliet, that he'll be performing in a few weeks time – we have our tickets and are looking forward to it!
And personally, I'm building friendships with the other parents on school runs, people I'll no doubt see plenty of in these coming years. Back home, I've made a few contacts with PRs about working on exciting projects on this blog, along with freelancing contacts, too. Nothing's come to fruition yet, but the groundwork has been done.
What about you? What one word sums up your week best? Please grab the badge, link up and share.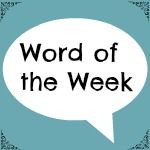 Linky opens at 6.30am Friday, to midnight on Sunday.