Hello and welcome to Word of the Week!
If you're new here, Word of the Week is a nice and simple weekly linky, with everyone welcome to pop by and share. You reflect back on the past week and sum it up in one word. Then share your word with us in a blog post, with as little or as much explanation as you like. It's a fun and friendly linky, so please do be lovely and visit as many of the other blogs as you can and share with them your thoughts on their words and weeks. I do comment on every entry to the linky, and if you add the Word of the Week badge to your post to help spread the 'word', I also tweet them out.
My word of the week this week is:
Education seems to have dominated my week, and in many varied forms…
My older nephew has been going for interviews to get onto a PGCE course from September as he's looking to train as a geography teacher. I am delighted to report that he has been offered places at all three of the universities that he applied to and interviewed at, so it's up to him to now choose the best one. Proud auntie!
My younger nephew has then been inspiring a post that I've been working on which will be live next week about taking on GCSE's.
There has been chat about SATs this week, as my daughter is in Year 2 so they are coming up soon. A fellow mum was starting to worry a little, coaching and reviewing papers has been discussed. To be honest, I really am not bothered about them. Yes, admittedly, I have no reason to believe they'll be overly challenging for Boo, but even if they were, do they really matter?! The school doesn't make a big thing of them so Boo's feeling no pressure, in fact, I'm not sure she knows about them yet anyway. And from my point of view, she's 7 and happy at school, so I have no further concerns.
This attitude may well be linked to the books I have been reading this week around education. I mentioned them in my 5 Books Guaranteed to Inspire You post this week, as I have been learning more about the Danish and Dutch education systems and culture around education. Oh my, it is so different to here! And to my mind, in a very good way. It has got me reflecting upon our education system and more importantly how my kids learn and how I parent them to do so, as these are the areas that I can actually affect. As the name of the post suggests, they have inspired me and reassured me. Great reads.
You may have spotted my post just before Christmas 'An Open University Update – Empire 1492-1975' where I shared that this year the module is just not grabbing me. Well, good news, it is now! I have started on Block 4 this week and I am absolutely loving it, phew!
Then there is this morning, when I will be in school as it's Boo's class assembly. She's been rehearsing it all week and I know it's about friendship, which I think is a lovely theme to choose and I'm really looking forward to seeing it.
What about you? What one word sums up your week best?
Please grab the badge, link up and share.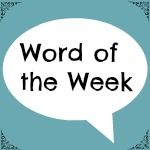 Linky opens at 6.30am Friday, to midnight on Sunday.