Hello and welcome to Word of the Week!
If you're new here, Word of the Week is a nice and simple weekly linky, with everyone welcome to pop by and share. You reflect back on the past week and sum it up in one word. Then share your word with us in a blog post, with as little or as much explanation as you like. It's a fun and friendly linky, so please do be lovely and visit as many of the other blogs as you can and share with them your thoughts on their words and weeks. I do comment on every entry to the linky, and if you add the Word of the Week badge to your post to help spread the 'word', I also tweet them out.
My word of the week this week is:
A countdown to so many things! I hate feeling I'm wishing time away, but this week has been one of those weeks where I just couldn't help but look forward. To what?
My girl breaking up from school today. We've a whole week together next week and I am really looking forward to it. We have very little planned so far, and I think a lazy break will be lovely. I've got as much bloggy stuff done as I could do this week so we can all relax together. There's been something of a spanner in the works as I had a lot of work and revision planned in for today, my last day without the kids, but my son's full of a horrible cold and running a high temperature so he's off from nursery today. Last night saw me working away frantically, so all is OK and on track…ish!
Of course, it's also a long weekend with the bank holiday, so I am looking forward to having the Husband at home with us on Monday.
My exam! Aaah! It's next Friday, so the countdown is on until then, and with the the kids at home this coming week, I've been revising as much as possible and I'm pretty much calling it a day now. I don't want to revise with the kids around – I doubt I even could!
The Husband's 40th – yes, it's nearly here! Two weeks today and we'll be away for a long weekend together, so I've been preparing for that, from getting gifts to making plans, as I know it will be here in no time.
And finally? I can glimpse my own birthday on the horizon and I do love birthdays. Mine is a few days after the Husband's and is always something that I look forward to. It's nearly here!
What about you? What one word sums up your week best?
Please grab the badge, link up and share.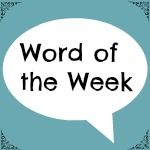 Linky opens at 6.30am Friday, to midnight on Sunday.