Thank you so much for continuing to share and to link up. I love reading everyone's chosen words, and it's great to see so many familiar linkers, as well as new ones each week.
If you're new here, Word of the Week is a nice and simple weekly linky, with everyone welcome to pop by and share. You reflect back on the past week and sum it up in one word. Then share your word with us in a blog post, with as little or as much explanation as you like. Come join in! All that I ask is that if you link up, you link back to me, and visit as many of the other blogs as you can and comment on their words.
My word of the week this week is:
This one's for both of my children this week. Boo had her first settling in session at school, readying her for her reception class in September. She absolutely loved it, as I'd suspected she would, though if you read my post here, you'll know how sad about it all I am. It was great to see her so happy about it and she's now desperate to start. I have her uniform and bags all ready, and I've even got her snack boxes labelled up! She is becoming more independent all of the time, and is ready for this next step. And as for Little Man? Well, he has been striving for independence. Yep, the Terrible Twos are starting to hit (despite him only just coming up to 22 months old). He MUST climb into the car himself, and then stand in the foot-well for an age before I cajole him to climb in to his seat or manhandle him in! He likes to put his own top on, reach for his own snack, be free of his high-chair as soon as he has eaten, will only deign to travel in a trolley if mollified, and will lie on the floor in public and refuse to move at the most inconvenient of times! He speaks more and more now, too, so happily uses his words and shouts to assert his opinions and desires. So yes, he is finding that he is independent from me, and wants to test just how much he can be, at every possible opportunity. Good times!
What about you? What one word sums up your week best? Please grab the badge, link up and share…..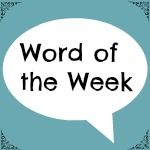 Linky opens at 6.30am Friday, to midnight on Sunday.