Hello and welcome to Word of the Week!
If you're new here, Word of the Week is a nice and simple weekly linky, with everyone welcome to pop by and share. You reflect back on the past week and sum it up in one word. Then share your word with us in a blog post, with as little or as much explanation as you like. It's a fun and friendly linky, so please do be lovely and visit as many of the other blogs as you can and share with them your thoughts on their words and weeks. I do comment on every entry to the linky, and if you add the Word of the Week badge to your post to help spread the 'word', I also tweet them out.
My word of the week this week is:
Primarily because I have been having blog issues that have meant I have been looking into switching my hosting company. It is a problem that I have encountered before, but my hosting company have not been great at resolving it, which is pretty useless to me as I have very little technical knowledge and of course I need the blog up and running at all times. I have never changed hosts before, so this is a whole new world, and I apologise now if the blog plays up over the next few days whilst I am working to get it back on track and I change hosting providers.
In addition to this, the word fits as this week we've also decided what we are going to be doing for Christmas this year and it seems that I am hosting Christmas dinner here for the second year in a row and I am really looking forward to that. It's only us four and my mum, so not remotely stressful and it means the kids can happily play with their new toys with Nanny whilst I get on and get the dinner ready.
And finally, as it has been half term, we have hosted a fair few play dates this week, which has been lovely. It would have been a relaxed week if it hadn't been for my pesky blog issues!
What about you? What one word sums up your week best?
Please grab the badge, link up and share.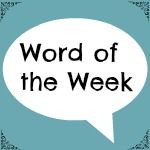 Linky opens at 6.30am Friday, to midnight on Sunday.