Thank you #WotW linkers! Great to have you joining us. If you're new here, Word of the Week is a nice and simple weekly linky, with everyone welcome to pop by and share. You reflect back on the past week and sum it up in one word. Then share your word with us in a blog post, with as little or as much explanation as you like. I comment on and tweet out every post, as long as you add my #WotW badge or a link back to here. It's a fun and friendly linky, so please do be lovely and visit as many of the other blogs as you can and share with them your thoughts on their words and weeks.
My word of the week this week is:
Last weekend saw us kick off festivities with not one, but two visits to see Santa. Needless to say, the children were full of excited expectations, and since their meetings, they now have very clear gift expectations!
Speaking of the visits, our first was to the now infamous The Magical Journey. To say that expectations about this event were high is something of an understatement and to say that expectations weren't met hardly covers it! It's been all over the news this week, and as such, it's also ended up being my highest viewed blog post and I had the BBC and Have I Got News For You contact me about it, so not an average week for me! To be fair, as you'll see in my blog post there, Little Man and Boo were perfectly happy with it, which is what matters most to me.
And then there has been the expectations all week that I have about today. We're having new windows fitted all over the house today. I'm looking forward to the added warmth, the improved sound-proofing and how they'll look. I've also been planning what I need to take with me out of the house as we're kind of banished from here for the day, what with the drafts and the noise, it's not a great place for Little Man to be.
So yes, expectations and anticipation all round!
What about you? What one word sums up your week best? Please grab the badge, link up and share. If the linky's messing about, select the 'generic' image and it should allow you to enter then. Have tried wrangling with it and improving it, but it's just not playing ball today!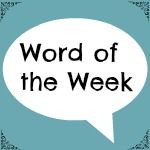 Linky opens at 6.30am Friday, to midnight on Sunday.