Hello and welcome to Word of the Week!
If you're new here, Word of the Week is a nice and simple weekly linky, with everyone welcome to pop by and share. You reflect back on the past week and sum it up in one word. Then share your word with us in a blog post, with as little or as much explanation as you like. It's a fun and friendly linky, so please do be lovely and visit as many of the other blogs as you can and share with them your thoughts on their words and weeks. I do comment on every entry to the linky, and if you add the Word of the Week badge to your post to help spread the 'word', I also tweet them out.
My word of the week this week is:
This week has seen Boo return to school and Little Man go back to nursery. It's also seen me starting on my End of Module Assessment for Open University and whilst I'm supposed to be putting the blog on the back-burner for the next few weeks to focus on it, no-one seems to be telling the opportunities that fact, as the work's coming in and I hate to turn it down! 'Tis going to be a juggling act this coming month, but I'm sure it'll be fine.
But when I look back over this week, it's thoughts about my son that have dominated. When I've not been mentally planning my assignment as I get chores done, or furiously typing away to squeeze some work in at odd times, I have been marvelling at him.
Little Man took a while to adjust to nursery, and prior to going there he was always quite shy. He'd cling to me when people visited, move away from other children at playgroups, hate talking to strangers and be reticent to try new classes and places. Well, where's that boy gone?! Over the past few months his confidence has been gradually growing and lately it's really coming on practically every week. On his return to nursery, there was no reticence as he ran off and asked someone to play with him. He is becoming a very chatty, confident little soul, talking to my friends and letting checkout staff know his plans for the day!
This week he started swimming lessons, completely at his request which impressed me in itself, and it was so lovely to see him in the pool. He went off with his teacher, and just during that half an hour I saw his confidence in the water grow, but what struck me the most was how talkative he was, asking the teacher this and that and telling her quite firmly when he didn't want to do something! I was so proud of him.
My final reason for 'marvel' is that with Boo returning to school, I've been seeing plenty of Marvel play here and been getting involved. Captain America has been exploring, the Winter Soldier by his side, and let's face it, just about every single other Avenger as he has them all! He's also been playing Marvel Avengers on the PS4, I've watched Thor (really no hardship) and we've been reading Marvel stories.
What about you? What one word sums up your week best?
Please grab the badge, link up and share.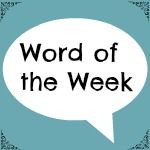 Linky opens at 6.30am Friday, to midnight on Sunday.