Hello and welcome to Word of the Week!
If you're new here, Word of the Week is a nice and simple weekly linky, with everyone welcome to pop by and share. You reflect back on the past week and sum it up in one word. Then share your word with us in a blog post, with as little or as much explanation as you like. It's a fun and friendly linky, so please do be lovely and visit as many of the other blogs as you can and share with them your thoughts on their words and weeks. I do comment on every entry to the linky, and if you add the Word of the Week badge to your post to help spread the 'word', I also tweet them out.
My word of the week this week is:
So many changes this week!
OK, first up Ikea. Ah, the joys of Ikea on a bank holiday weekend, four hours of my life that I'll never get back. On the up side, the kids were staying at my mum's so the Husband and I could concentrate on what we wanted to buy and then make it all up when we got home in peace. We now have a new look dining area in our kitchen, I have a new home office space and those two big changes have had knock on effects elsewhere in the house where we have moved things around. I've loved walking around the house this week and getting used to the changes. The house feels more spacious and well-organised. We have then been planning a few more home improvements and projects that should keep us busy for a few more weeks.
Not wanting them to be left out, I've also changed the bedding in the guinea pigs cage. No big deal, you're thinking, barely worth mentioning? Yet the time I've spent researching it this week, pricing different options up and then marvelling at the absorbency of the first one I'm trying means it merits a mention! With changes to the playroom and office space, it does also free up a larger space for them to live so I am also in the middle of researching a change of cage for them.
The biggest change on our lips this week is actually yet to come, but has occupied quite a bit of my time and thoughts. Little Man will be turning 4 years old tomorrow, and as you can imagine the build up to that particular change is quite an excitable one!
Then there's the imminent change looming – from relaxed and fun days to the return to school. But we've plenty of adventures planned in here before that, so I won't dwell on that one!
What about you? What one word sums up your week best?
Please grab the badge, link up and share.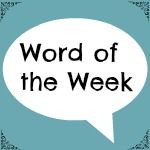 Linky opens at 6.30am Friday, to midnight on Sunday.