Hello and welcome to Word of the Week!
If you're new here, Word of the Week is a nice and simple weekly linky, with everyone welcome to pop by and share. You reflect back on the past week and sum it up in one word. Then share your word with us in a blog post, with as little or as much explanation as you like. It's a fun and friendly linky, so please do be lovely and visit as many of the other blogs as you can and share with them your thoughts on their words and weeks. I do comment on every entry to the linky, and if you add the Word of the Week badge to your post to help spread the 'word', I also tweet them out.
My word of the week this week is:
OK, well if you're not on Instagram I sort of feel the need to apologise as it's all I'm about to bang on about, but then the other part of me wants to shout 'why not?'! It's so pretty there!
So over the last week or so I have been enjoying popping over onto Instagram. I've made a few changes to my stream and done things a little differently there and I am really enjoying coming up with things to share, as well as thinking about how best to photograph them. I like photography, but this is as far as my very limited skills currently take me, so it's a fun place to play around. I have also been experimenting with different hash tags to find new communities, been trying out different filters and have started to get a feel for the best times to post to get some chat going. It's a bit like a teeny tiny blog there, and it is a rather lovely place to be.
I have also launched my second Instagram competition over there (both are still running, both are papery!) and I plan to use this platform to run more in the future.
Which brings me to my third point. Some of you may already know and follow the #BringBackPaper hash tag over there, a lovely one to use when you're sharing any papery snaps – new books, what you're reading, stationery, magazines, scrapbooking, whatever! Well, I've been developing and planning next month's #BringBackPaper activity which will be about sharing more there, so do watch this space next Wednesday for more details if that sounds like something for you.
Are you on Instagram? Do you like it?
What about you? What one word sums up your week best?
Please grab the badge, link up and share.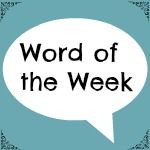 Linky opens at 6.30am Friday, to midnight on Sunday.