Hello and welcome to Word of the Week! It's that time again where I sum up my week in a word, and invite others to do the same. I do enjoy pausing and thinking back over my week, and looking for an overriding theme. And I thank those of you that take the time to do the same and then link up with me here. It's a pleasure to have you all.
If you're new here, Word of the Week is a nice and simple weekly linky, with everyone welcome to pop by and share. You reflect back on the past week and sum it up in one word. Then share your word with us in a blog post, with as little or as much explanation as you like. It's a fun and friendly linky, so please do be lovely and visit as many of the other blogs as you can and share with them your thoughts on their words and weeks. I do comment on every entry to the linky, and if you add the Word of the Week badge to your post to help spread the 'word', I also tweet them out.
My word of the week this week is:
It's been a good week for getting things done. You know, those niggling things, some big, some small, that I needed to get round to. Well, at last, this week I have! So in no particular order…
– I started running – hooray! For exercise, that is, and it's still at the stage where my entire body aches.
– Boo had her first swimming lesson. Getting her swimming has been on my radar for a long time since she had a disastrous start as a toddler and hated her swim lessons. It's just been a case of trying to find a suitable time, the right class and the right venue. Fortunately, one of her friend's mums mentioned that her son was starting on Saturday and it was perfect for us, so I booked her straight in last week, and she went to her first lesson on Saturday. She loved it! It was so lovely to see her enjoying it, and I feel like a huge box has been ticked there.
– We bought and installed a new post box. Well, the Husband installed it. After living here for nearly ten years, it finally happened. I lost the post box key! I searched high and low before conceding that I may have thrown it in the bin, so a new one was ordered, it is now up so I needn't fear the postman wedging a huge envelope in the old one and blocking up my post supply, and I have a spare key, too!
– I've given the bathroom a makeover. We had our bathroom refitted several years ago, and though I still like it, it's been looking a little tired. So this week, we ordered some new flooring, which has already been fitted, and got a few new accessories and shelving up, along with the excitement of digging out the old sealant (how do you keep mould off those things?) and redoing it so it all looks sparkly clean and fresh again.
– I finally, finally, completed my tax return! Yes, I left it a little late and it actually didn't take me long to do either, but I'd been putting it off, and now it is done.
– I arranged several lovely blog give-aways for you all. I love treating my readers, so I'd been meaning to sort this at the start of the month, but I got there in the end, and there are now several running here – do take a peek!
Of course, all of this productivity has me yearning to get more things done, so my list continues to grow…!
What about you? What one word sums up your week best? Please grab the badge, link up and share.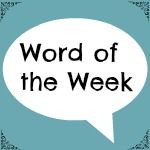 Linky opens at 6.30am Friday, to midnight on Sunday.