Hello and welcome to Word of the Week. The final Word of the Week of 2016, the year has flown by! Thanks so much if you've joined in this year, I have loved reading each and every post and always look forward to sitting down to them each week. Here's to a great 2017 WotWers!
If you're new here, Word of the Week is a nice and simple weekly linky, with everyone welcome to pop by and share. You reflect back on the past week and sum it up in one word. Then share your word with us in a blog post, with as little or as much explanation as you like. It's a fun and friendly linky, so please do be lovely and visit as many of the other blogs as you can and share with them your thoughts on their words and weeks. I do comment on every entry to the linky, and if you add the Word of the Week badge to your post to help spread the 'word', I also tweet them out.
My word of the week this week is:
This week's word could so easily have been Christmas, Family, Toys, Food or even Packaging, and all have been a big part of the week, but Disarray wins out!
Christmas has taken over and as such, everything has been thrown into disarray. My blogging schedule has been haphazard as I like it to be over the holidays, though it does feel strange to be disconnected. Our living room has only just returned to normal after days of having toys all over the place, and for someone that likes tidy and organised, I had to practically sit on my hands to leave things where they were for the kids! As presents were unpacked and then played with, packaging and bin bags have been mounting up and taking over – why, oh why is there so much packaging?! And don't even get me started on the batteries we've got through this week! In order to give homes to new toys, the Husband and I popped to Ikea to get some new storage for Little Man's room, which has definitely helped but whilst we were sorting it out everything was even more disorganised!
But you know, the disarray gives me a warm and cosy feeling. The house has been in chaos, the kids have been beyond excitable and crazy every day and everything's completely out of routine, but I wouldn't have wanted it any other way. My girl came up to me on Boxing Day and told me that she's having the best Christmas ever, thanked me and gave me a big hug. The disarray is totally worth it.
Hope you've all had lovely weeks, too. I'll say Happy New Year now, I'll be back in 2017!
What about you? What one word sums up your week best?
Please grab the badge, link up and share.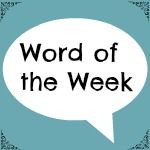 Linky opens at 6.30am Friday, to midnight on Sunday.