Thank you so much for continuing to share and to link up. I love reading everyone's chosen words, and it's great to see so many familiar linkers, as well as new ones each week.
If you're new here, Word of the Week is a nice and simple weekly linky, with everyone welcome to pop by and share. You reflect back on the past week and sum it up in one word. Then share your word with us in a blog post, with as little or as much explanation as you like. Come join in! All that I ask is that if you link up, you link back to me, and visit a handful of other blogs and comment on their words.
My word of the week this week is:
Yep, playing, playing and more playing here! Now, having 2 preschoolers, play often features heavily in my week, but even more so this week. We've been very fortunate to have received several new games and new toys to review this week, which I'll share with you soon, and they've been very popular! The children have also received some Teenage Mutant Ninja Turtles DVDs to review (the review is favourable!) and so Boo wanted to use some of her pocket money to buy turtle toys, which have been played with a lot! With all of this rain, I've been stretching my mind and creativity to keep the kids, and me, amused inside, so we've had the tuff spot out again with a little sensory and messy play. I've also gone for the old favourite trick of rotating the toys a bit, so suddenly ignored and overlooked items are getting played with again just because they're in a different room! I've continued, just about, to get my blog/family-life balance right, so I've had plenty of time to join in and enjoy play-time, too, and at the times where I've been doing other things, I've delighted in hearing Boo and Little Man playing happily and noisily together. It's been a good week.
What about you? What one word sums up your week best? Please grab the badge, link up and share…..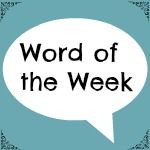 Linky opens at 6.30am Friday, to midnight on Sunday.