Hello and welcome to Word of the Week!
If you're new here, Word of the Week is a nice and simple weekly linky, with everyone welcome to pop by and share. You reflect back on the past week and sum it up in one word. Then share your word with us in a blog post, with as little or as much explanation as you like. It's a fun and friendly linky, so please do be lovely and visit as many of the other blogs as you can and share with them your thoughts on their words and weeks. I do comment on every entry to the linky, and if you add the Word of the Week badge to your post to help spread the 'word', I also tweet them out.
My word of the week this week is:
Yes, I have been feeling the change in the seasons this week.
I've had a few days where I've actually felt a bit chilly – I'm normally really warm and wearing flip flops long after everyone else has switched to boots, so I know the season is changing! I've been noticing the beautiful colours in my garden and as I walk around, I do love the warm colours of autumn. And I've got the fairy lights on and candle burning in the living room every night now, as I snuggle under a throw, all sure signs of autumn in my home.
I have also been enjoying the shift in TV shows this week as some of my favourites return. The telly is always better after summertime, isn't it? Strictly Come Dancing, Travel Man and Gogglebox are all back, so I have something to enjoy whilst I'm snuggled up of an evening.
It's also my girl's 7th birthday this coming week which always heralds a change in seasons to me, and as soon as that's over, I do tend to start looking towards Christmas. No sooner am I in autumn than I am thinking winter!
What about you? What one word sums up your week best?
Please grab the badge, link up and share.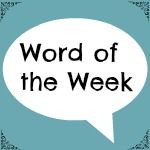 Linky opens at 6.30am Friday, to midnight on Sunday.