Thank you so much for continuing to share and to link up – I love to find out about everyone's weeks in this way, love it!
If you're new here, Word of the Week is a nice and simple weekly linky, with everyone welcome to pop by and share. You reflect back on the past week and sum it up in one word. Then share your word with us in a blog post, with as little or as much explanation as you like. I comment on and tweet out every post, and it's a friendly place, so come join in! All that I ask is that if you link up, you link back to me, and visit as many of the other blogs as you can and comment on their words, please.
My word of the week this week is:
This week has gone by in a bit of a blur. You know those weeks where you have to stop and really think about what day it is today – it's been one of those! I toyed with the word 'chaotic' as I've felt all over the place, but somehow, it's still all been organised and under control, yet I've felt all week that I might be one step away from forgetting or overlooking something! I feel a bit like a hamster on his little wheel! Our routine's fully in place now, with the 2 school runs daily, and then Little Man has 4 of his 5 mornings with classes or groups, so we're in and out, off to various venues at various times, and it's all stored in my head. As soon as he naps in the afternoon, I've been sitting down to work, and along with my normal writing, I seem to have had an influx of emails to respond to this week, reviews and posts to organise and give-aways ending to arrange prizes for – all good things, but a little more than average. Boo's been bringing plenty of paperwork home from school with her, so I've been ensuring slips are going back when they need to, including ones for a maths workshop and parents evening, both next week, which I've then arranged babysitters for. I'm now volunteering at the school on Wednesday afternoons, while my mum's with Little Man for his nap, so there goes that slot for writing! Unusually, we've also had something going on each afternoon after school, from haircuts to seeing family, and then the Husband's got a big project on at work which has seen him home later than normal, too. Though I do suspect that all of this wouldn't give me such a hectic feeling if it wasn't for also preparing for a birthday and all of the treats that go along with it, as today is Boo's 5th birthday. It's been exhausting and relentless, but with adrenalin and goals keeping me wired! So yes, I've felt a little bit all over the place, always suspecting I'm one step away from dropping the ball, but so far I'm in control….so far!
What about you? What one word sums up your week best? Please grab the badge, link up and share.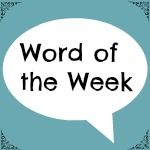 Linky opens at 6.30am Friday, to midnight on Sunday.