Hello and welcome to Word of the Week!
If you're new here, Word of the Week is a nice and simple weekly linky, with everyone welcome to pop by and share. You reflect back on the past week and sum it up in one word. Then share your word with us in a blog post, with as little or as much explanation as you like. It's a fun and friendly linky, so please do be lovely and visit as many of the other blogs as you can and share with them your thoughts on their words and weeks. I do comment on every entry to the linky, and if you add the Word of the Week badge to your post to help spread the 'word', I also tweet them out.
My word of the week this week is:
This week's word didn't immediately jump out at me until I thought over all that the week had entailed. Only then did I appreciate how productive it had been, which can only be a good thing, so I am glad I reflect back on my week's like this.
There have been the smaller, every day things. I had the Easter parade letter and felt all smug as I'd saved Boo's bonnet from last year so I was all set, until I spotted that it's next Friday, a day when Little Man will be in nursery so he needs one, too! All sorted now, popped to the shops, grabbed a cowboy hat, chicks and rabbits and we're done. In the interests of full disclosure, I should point out that it was actually my mum that made it as another event this week was attending an inspire workshop at Boo's school for the morning so my mum looked after my boy which came with the bonus of her making his bonnet. We've also had a follow-up appointment with Boo's doctor after her recent illness and all seems to be well. I had to pop to the opticians for a dilation so that he could have a good look in my eyes – those drops do sting and it just happened to be on the brightest day of the week so I was hiding my eyes away from the sun most of the day. If you've not had this, the drops make your pupils hugely dilate for several hours, so bright light makes them water a lot as they cannot shrink down in reaction to it as they naturally would. All was well, phew. Oh, and Boo needed new uniform and shoes as she's managed to destroy some of it over recent weeks, not sure how, but there it is!
Then there have been the bigger things. I managed to sort out the very first pen pal sign up that I have run. It took me a fair few hours longer than I'd expected as it was very popular, but it was so lovely putting lots of people in touch with each other in this way and I also managed to write to my new pen pals and get those letters off. I then booked our very first family holiday abroad, so we'll be off to Holland this August and we are so excited! It'll be the kids' first time on a plane and we've not been away for a full week since before we had the children. Counting down to it! And then, momentous occasion, I actually finished all of this year's Open University module reading – fanfare, please! Hooray, I am also now running ahead of schedule and there's just the teeny matter of an assignment to write next week and then the end of module assessment that I will spend much of May preparing and writing.
What about you? What one word sums up your week best?
Please grab the badge, link up and share.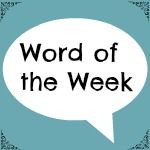 Linky opens at 6.30am Friday, to midnight on Sunday.