Hello and welcome to Word of the Week!
If you're new here, Word of the Week is a nice and simple weekly linky, with everyone welcome to pop by and share. You reflect back on the past week and sum it up in one word. Then share your word with us in a blog post, with as little or as much explanation as you like. It's a fun and friendly linky, so please do be lovely and visit as many of the other blogs as you can and share with them your thoughts on their words and weeks. I do comment on every entry to the linky, and if you add the Word of the Week badge to your post to help spread the 'word', I also tweet them out.
My word of the week this week is:
And I'm going to use this as both the adjective and the noun, clever, eh?
The week started off a little differently as Boo went to stay at my brother's on Friday night, the first time that she's stayed with her uncle and auntie, in fact the first time she's been with anyone but us and my mum, so that was novel. They made pizza, had a movie night and then went out for breakfast the next day. It would be fair to say that she liked it, and fortunately, they are already talking about having her stay again because she sooooo wants to!
Then on Sunday Boo and I had a little one to one time, which we do every so often but it had been a while, so it felt special. We went shopping and stopped for milkshakes in Cafe Nero, where we'd never actually been before, more novel experiences.
We have had the novelty of being hosts to Little Man's nursery bear this week. I'm not a big fan of looking after the bear, as I know it's basically another job for me to fill in the book! But Little Man was so happy bringing her home that I just got on with it!
Little Man and I also explored a new (to him) soft play this week, which he absolutely loved. It's one that I used to take Boo to when she was little, but had yet to try it with my boy, and he gave it a thumbs up. Whilst he happily explored, I drank hot chocolate and read my book. Winning all round!
Speaking of my book, I am getting through so much reading already this year, which always makes me happy. I've read three novels this week, the last of which was a pre-order as it was a brand new title by one of my favourite author's. Loved it!
The eagle-eyed amongst you might have spotted a novel new badge in my sidebar, as I am delighted to be working as an ambassador for Warwick Castle this year. Castles, history, this ambassadorship was made for me! I might (totally did) have squealed when I got this email and I look forward to sharing more with you this coming year. As a quick heads-up now, if visiting appeals to you, they do have a 25% sale on tickets and breaks there at the moment, including school holidays.
And finally on the novel front, I have been trying several new things out here, behind the scenes. You just never stop learning and working with blogging, do you?!
Ooh, and completely unrelated, but while you're here, I have launched a stationery swap this week, so do sign up if you fancy it.
What about you? What one word sums up your week best?
Please grab the badge, link up and share.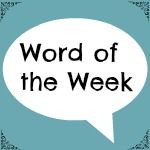 Linky opens at 6.30am Friday, to midnight on Sunday.