Hello and welcome to Word of the Week!
If you're new here, Word of the Week is a nice and simple weekly linky, with everyone welcome to pop by and share. You reflect back on the past week and sum it up in one word. Then share your word with us in a blog post, with as little or as much explanation as you like. It's a fun and friendly linky, so please do be lovely and visit as many of the other blogs as you can and share with them your thoughts on their words and weeks. I do comment on every entry to the linky, and if you add the Word of the Week badge to your post to help spread the 'word', I also tweet them out.
My word of the week this week is:
The time has come around for me to upgrade my phone. Although I like my phone and don't like the hassle involved in getting a new one, I knew that I needed an upgrade to improve storage and the camera.
I've been looking into which phone to get over the past few weeks and decided to get the latest model of the phone that I have, as I'm happy with it and used to it. So this week I have spent time looking around for the best deal on a Sony Xperia XZ, faffing around online researching offers and checking reviews and then finally making calls to upgrade. It was all upgraded on Monday, the phone arrived on Tuesday and on Wednesday I transferred everything from my old phone across, installed and set up all the apps that I need and then started using it. I was pleased with myself as I managed to do it myself – I tend to pass new phones to the Husband to sort out as I have no interest in it whatsoever!
All's well and as I have stayed with the same make, it's all familiar to me so I've not had to spend time getting used to it. So here's to better storage now and a better camera!
What about you? What one word sums up your week best?
Please grab the badge, link up and share.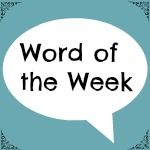 Linky opens at 6.30am Friday, to midnight on Sunday.